English for Presentations: Tips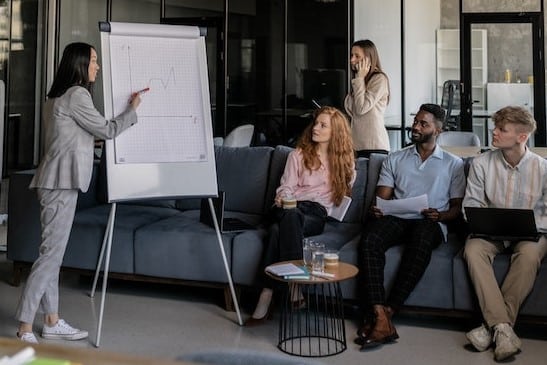 This English for Presentations series will give you lots of advice and English presentation language. Each English Presentation article covers a different aspect of presenting and includes useful phrases and an example of an English presentation. You can read all the articles on this website, or download them all in one convenient eBook.
English for Presentations: Tips
English Presentation Tip: Prepare
Feeling prepared can give you all the confidence you need to give a great presentation. Consider the following factors:
Goal
Before you start preparing your presentation, ask yourself: "What is the goal of the presentation?" Is your goal to train, inform, persuade, or sell? If your objective is clear in your mind, then it will be clearer to your audience.
Audience
Who will you make the presentation to? How many people will there be? Are they a specific group or the general public? How well do they know your presentation topic? Do they know each other? Your audience will decide the formality of your tone, as well as the precision of your information.
Timing
How long will your part of the presentation be? A longer presentation will require a lot more research, visual aids, and possibly some interactive parts. Will you speak after lunch or at the end of the day? If so, your audience may not be paying attention.
When you consider all of these things, the presentation will practically write itself. That is, it is much easier to write your presentation when you know your objectives, audience, and timing. With these 3 things in mind, now you can decide tone (friendly or formal), information (general or precise), visual aids, and interactive activities.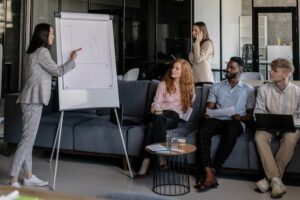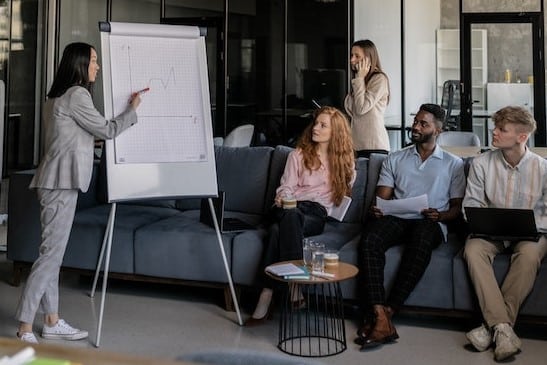 English Presentation Tip: Practise
Practise is key to feeling comfortable at the front of the room. They say that the 2 things that people are most afraid of are death, and giving presentations. In fact for many people, giving presentations is the scarier of the 2. I can relate. As a child, I was scared to death of giving presentations. The best way to deal with this fear is to practise. Luckily (or unluckily) for me, presentations were part of the Canadian elementary and high school curriculum, so by the time I finished university I had a good bit of experience in giving presentations, and this helped a lot in giving me confidence presenting.
English Presentation Tip: Signposting Language
You can go almost anywhere in your home town without once looking up at a street sign. Of course! You know your hometown like the back of your hand, so street signs are a bit superfluous. But when you travel on vacation, how often do you look at street signs or Google Maps? Constantly! If you don't know the area, you need something to tell you where you are and what direction you're going, otherwise you'd be lost. This is the value of presentation signposting: Preventing your audience from getting lost. Helping your audience follow you and stay with you. As soon as your audience hears signposting language like: "Now, let's move on to the implementation of our proposal", they know that the current section has come to a close, and a new theme is being introduced. In the following sections, we will cover various English Presentation signposting expressions. They are very specialised, but they do wonders for making your presentation clear, organised, and easy to follow.
English for Presentations: Menu
And that concludes the English Presentations Tips. I hope you got something from it. Please look at the menu below to go to the other units in the series, or better yet, download the eBook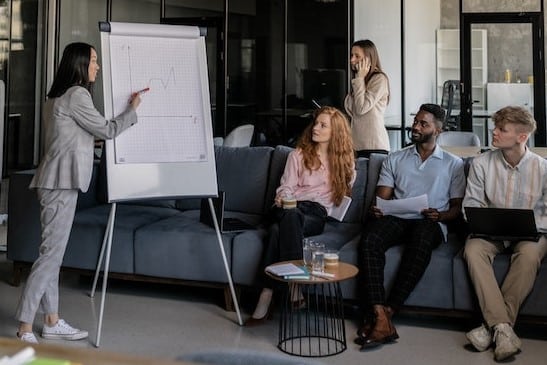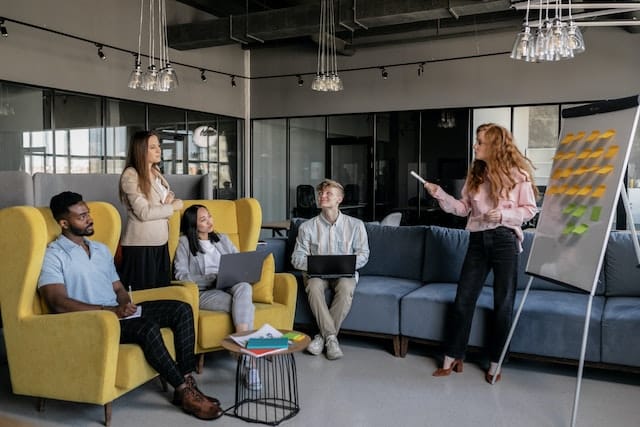 Free eBook:
English for Presentations
Feel Free
Improve your Confidence and Career